I'm really struggling with this race report. It was a fairly uneventful race, and I'm not one to invent drama in my writing where there is none solely for the sake of entertainment (OK, that's TOTALLY a lie, but I don't believe in doing that for race reports).
Anyhow, after the
Napa Trail Marathon
in late March, it took about two weeks before I started to feel recovered, and also about two weeks before my uber-blisters (missing heel) healed. I had been planning on going to run Boston, but I fell victim to the worst case of botched scheduling in recent memory (ok, well, as I'm writing this, that's no longer true, but back in March/April, it was). So Boston was off the books, which was a bummer, and the newly-resurrected marathon in Reno (aka Downtown River Run) was the weekend before Boston, so I sauntered down to signup on Friday prior to the Sunday race, handed over some money, and pledged to fling myself into the fray once again, a mere 3 weeks after Napa.
The course undulates from downtown Reno out to Verdi and back again, turning around about 500' higher than the start/finish and gaining about 1100' of elevation with all the rollers. A course like this is not particularly fast (and Reno's about 4500' above sea level anyway, just for some extra excuses)! Our secret bonus for the day will be a tailwind on the way out, which of course means a headwind on the way back in. Ouch.
Come race morning, I am feeling fully cognizant of my less-than-complete recovery and set my expectations accordingly. A couple minutes before the start, I strip everything off except shorts and shoes (because 'Merica!), point my rock-hard nipples toward the feeble April sunrise, and chat nervously with my friend (and certified ultra-stud) Adam on the line. Milling around under the world-infamous Reno Arch at sunrise is usually reserved for the alcoholics and degenerates, so we do our best to do their job justice and mutter incomprehensible platitudes.
With no watch or heart rate monitor, no timing clocks on course, and Frisky Puffs drenched in Stubborn Milk for breakfast, my official strategy is the oft-ill-advised "go out hard and see what happens." Sometimes it works, and sometimes...not so much. Hey, this is what makes racing exciting sometimes! For the two of you who might care about my nutrition, after my success with carrying a bottle full of gel at Napa, I decided to do the same thing here. I probably didn't drink as much as I should have, but it worked well especially as I didn't know what they'd have on course. Probably made it through 300cal and supplemented with water from aid stations.
So Adam runs with me for the first couple of miles and then trails off behind me. I run gleefully unencumbered with the wind at my back and no one to interrupt my rhythm all the way to the turnaround. Never bother looking behind me as it won't really change how I'm running if I get caught/passed/tripped/struck by lightning/etc.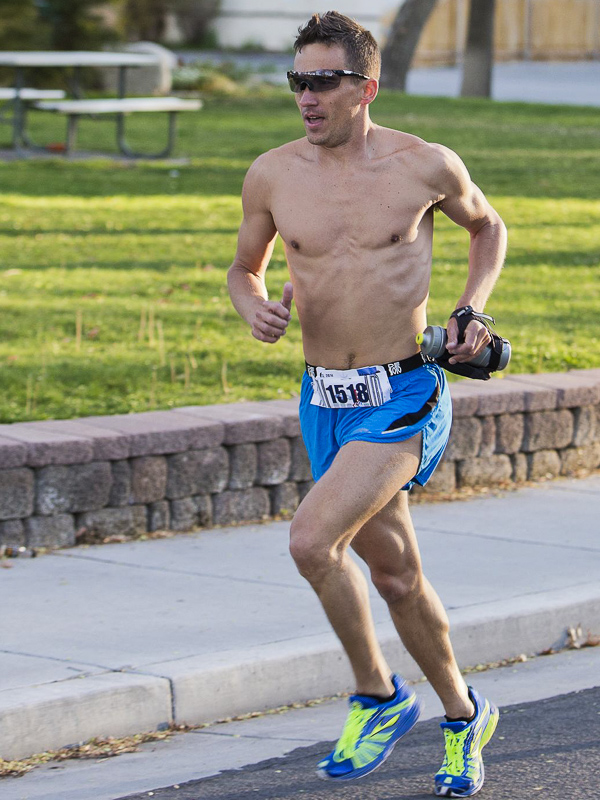 Aforementioned rock-hard nipples (you're welcome)
As I had anticipated, the turnaround brings the headwind with it, but even anticipating it doesn't make it feel any better: it sucks. It also gives me the opportunity to gauge my lead, which is a couple minutes to Adam and then a couple more to the next pack of chasers. This means that if I don't blow sky-high, I might have a chance at winning the thing, but years of long-distance racing of various flavors has taught me that it's never over until it's over.
Sure enough, some of the uphills on the return trip, paired with the headwind, bring me to an awkward shuffle (and nearly to tears), but a few minutes of relaxing my stride a bit aids recovery and lets me survive until the next hard spell.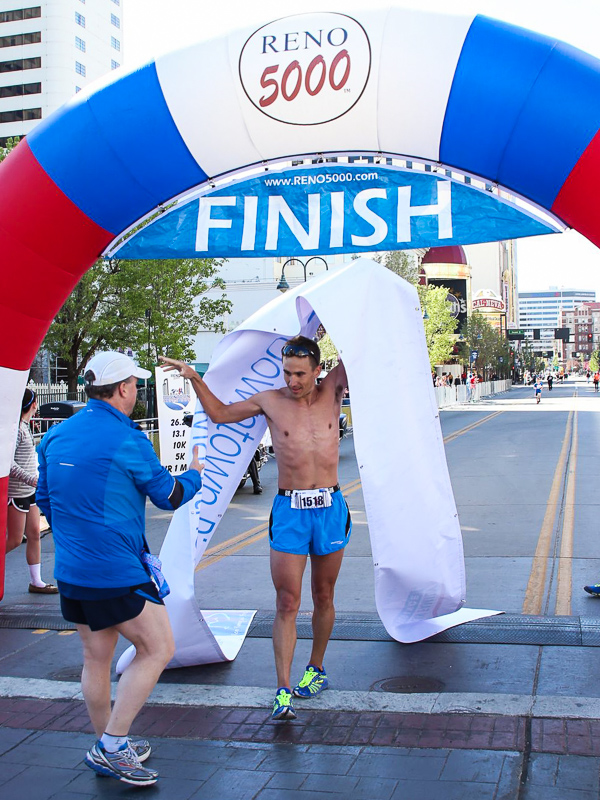 This thing heavy please help me not die
Again, won't invent drama, so can't say much more than "held off the hordes and finished happy and healthy." There was a bonus prize if the winning male broke 2:40, which I thought was in reach if all planets aligned, but they didn't, so it wasn't :) Mega-props to Ramona, the winning woman, who collected her bonus for sub-3:00. She is an absolute beast and about as humble and friendly as they come.
What I can add, however, is that police escorts are AWESOME. I had 2 police motorcycles putting along nearby for the entire race, and to put it bluntly, it's royal treatment! I felt like the dignitary in a motorcade. They even lit up their sirens when I made the last turn onto Virginia St before the finish, which was pretty cool. It was actually super helpful to have them in the last few miles after we rejoined the half-marathon traffic as they pretty aggressively cleared a path for me; my lizard brain wouldn't have done nearly as well.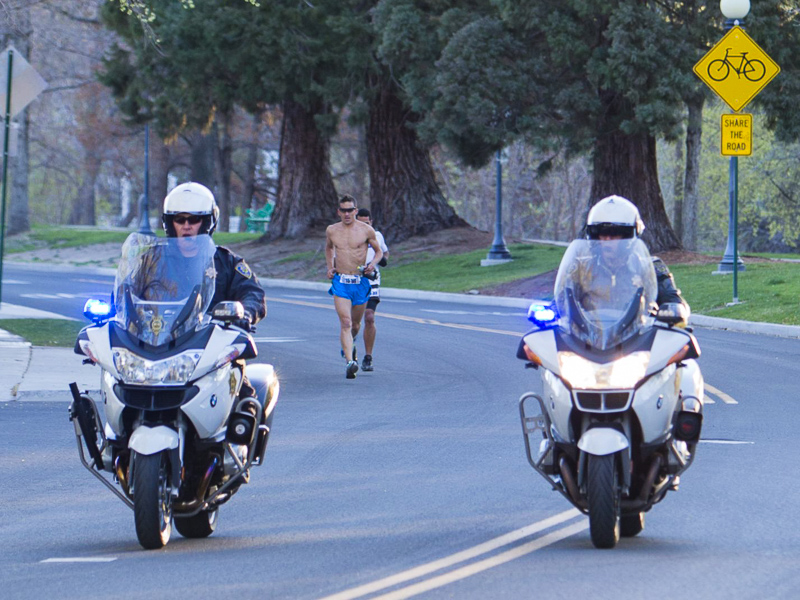 Not your normal escort service
I also have to extend thanks to the race organizers and volunteers for being thorough, helpful, and cheerful before, during, and after the race. Additionally, major props to all the other happy racers...it was truly enjoyable to see everyone on the out-and-back course and exchange smiles, waves, grunts, and various other forms of feeble communication while we were smashing ourselves!
It was also fantastic to see loads of friends at the finish who were either spectating, running shorter races (and many as final prep for Boston), or volunteering. Reno's running community is full of awesome people who spread their positivity and generosity far and wide, so chapeau to you all for that.
I felt pretty freakin' fortunate to have started off my season with 2 great races; nothing that I'd expect but I sure as hell won't complain!
-