Nothing that grieves us can be called little: by the eternal laws of proportion a child's loss of a doll and a king's loss of a crown are events of the same size.
-Mark Twain
In case you're wondering, DNS stands for "did not start." This post's not one I wanted to write.
Let's get some glaring objections out of the way in order to set some perspective:
I live in a first-world country.
I've never had to worry about food, water, or shelter.
I'm fortunate to have had a first-rate formal education.
I've got an incredible support structure in the way of family and friends.
I've never feared for my life at the hands of another, or been subject to any sort of physical or emotional abuse.
I've never been the target of any discrimination based on the color of my skin, my gender, my sexual orientation, or anything else listed in any anti-discrimination clauses.
So, really, life is good.
Throughout my adult and adolescent life (and probably as a child), I've been driven by goals and the commitment it takes to attain them. From any homework assignment, to getting my first job to pay off my first snowboard, to taking the SATs, to finishing a college degree, to getting real jobs, to sporting endeavors of myriad flavors, there's been one thing in common: each has been a goal that's required some series of steps to attain it. Some long, some short, some hard, some easy, some clear, some nebulous, but all goal-oriented.
When I got into triathlon in 2003, it was because of a goal: to declare myself fit enough to get back on the snow after a
bad day in 2002
. As I progressed in the sport, the goals became loftier and loftier: longer races, better finishes, more challenging courses. There were also secondary goals that sprouted from these: don't be a douche and talk about the sport all the time; be as encouraging as possible to others in their goals; see the sport as an avenue for inward growth instead of just time splits and podium "glory;" don't let the sport take over my life by damaging the balance between family, friends, work, and other hobbies.
I'm under no delusion of being a world-class athlete. However, I've done well, and I've progressed to the point where I can view an ironman (or triathlon of any distance) as something to
race
instead of something to
complete
. Being able to race an ironman is an interesting proposition. Physical game? Better be tip-top. Mental game? Better be even stronger. Preparation? Better be meticulous (although I do a damn good impression of being all Zen about it). I've grown to crave the process of preparing to race ironman, at the same time being acutely aware of the toll it takes on body and mind.
Embrunman
has been on my list of must-do races for a few years. Arguably the hardest (or maybe second-hardest) iron-distance race in the world, it scurries through the French Alps on its way to utterly destroying most who toe the line. After being too busy to train or race last year, I've been thoroughly enjoying doing both in healthy amounts this season. Time off does a body well, and also rekindles the fire to compete. After missing the lottery for Norseman (see above note about second-hardest race), I latched on to Embrunman as this season's headline race. I found myself more terrified of this race than my first ironman, and man, what a great way to motivate oneself to train...long story short, if you had asked me last week, I'd have told you that I was ready to smash this race.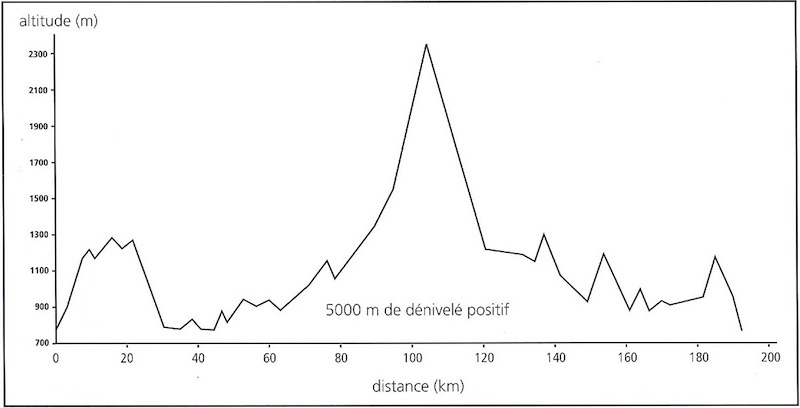 Yes, I was dumb enough to sign up for this.
The race is 9 days from the date of this writing.
5 days ago, I left the house on my bike at 6:15am for a couple hours of pre-workday intervals, just one of many workouts in the remaining few days of hard training before tapering, healing, resting, and sharpening up. 15 minutes into this ride, still warming up, I was riding southbound in the bike line on a flat and dry road when I was struck head-on by a car traveling northbound.
In doing so, I dodged a huge bullet. Don't get me wrong; I'm injured and my bike (yes, the
race bike
) is broken. However, I'm alive, and all my body parts are attached and pointed in the right direction. I escaped any head and neck injuries. The mechanics of the collision worked hugely in my favor; it could have been WAY worse.
However, the injuries I did sustain are
just
serious enough and this happened
just
close enough to the race that, unfortunately, I'm pulling the proverbial plug. I've leaned heavily on the advice of medical professionals, friends, family, and colleagues, taking all arguments into consideration, and it's the wise thing to do. Not to sound overly dramatic, but this race ain't yer local 5k, and the risk of turning a relatively benign and temporary injury into something serious and lasting far outweighs the benefits of going ahead with the race. Beyond the chance of worse injury, the hit to my confidence in this crucial pre-race time would put me on the start line a hollow man, and I want to be there whole in mind, body and spirit. Nothing less will do.
Thank you all for your input (you know who you are), and I've decided that discretion is the better part of valor.
I have this amazing mental image of my erector spinae detaching during the race and rolling up into my shoulder like a pinwheeled flank steak. No thanks.
My body will heal.
My bike will get replaced (by the other gentleman's insurance, no matter how surprised they are to find out that my bike cost more than his car).
However, my heart and mind are devastated. To have this goal plucked away so close to its culmination hurts. Writing this is, I suppose, part of the healing process. I have to let go of this one, and that kills me. The planets had aligned so well for this race, and to say that they never will again would be to play the victim. I get to
make
them align again; I simply have to.
And hey, we're still going to Europe for a month. This is not a bad consolation prize.
-