So Alleghe sits at the base of the Civetta Group, one of the monstrous sections of the Dolomites. Of course, there are hiking trails, and beyond that, there's a network of rifugios, mountain hostels that allow one to link up huge hikes with no overnight gear save a bedsheet. They have beds, food, and beer, also known as the holy trinity of surviving in the mountains.
We figured we'd spend some time in the rifs (short form), but also realized that we wouldn't have many days to while away hopping from rif to rif. Furthermore, Civetta seemed manageable to blast around in a day, even though the books showed it as a 3-day hike. Hahahahaha. So we decided to do it as a day trip, assess the various rifs, and decide where we'd spend a night later on in the trip.
We are aided by a gondola ride from Alleghe up to the main network of trails higher up. Waiting for the gondola to fire up also gives us a later start than we'd be accustomed to, and we are somewhat justified in feeling nervous for letting the sun get so high before setting off [foreshadowing!]. Fortunately, it is a banner day. Party on!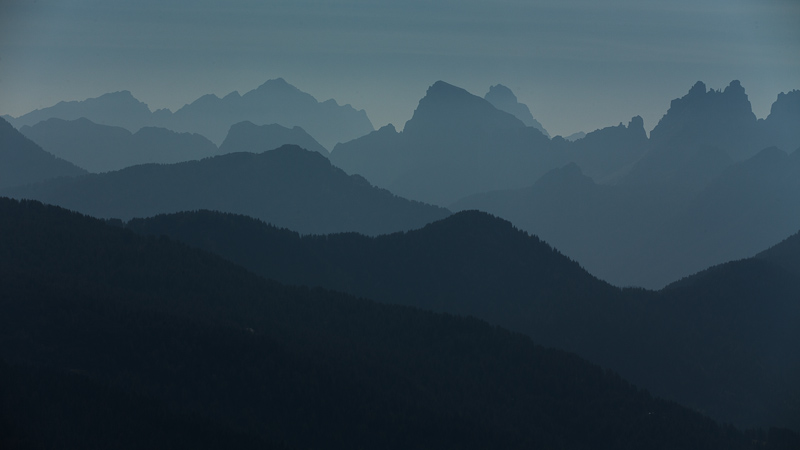 Looking E from Civetta across what seemed like all of Italy
Trail distances are a little spotty 'round these parts; as best as I can put it together, this is a ~12-mile hike. Our first waypoint is Rif Coldai, a scant hour or so into the hike. We blow right through it and continue along the east side of Civetta.
Rifugio Coldai, perched cliffside
The trail along the east side has some exposed bits, but nothing too awful. However, the going is a little slow nonetheless and when we finally make a right turn up Forcella delle Sasse, the sun is precariously far along its path.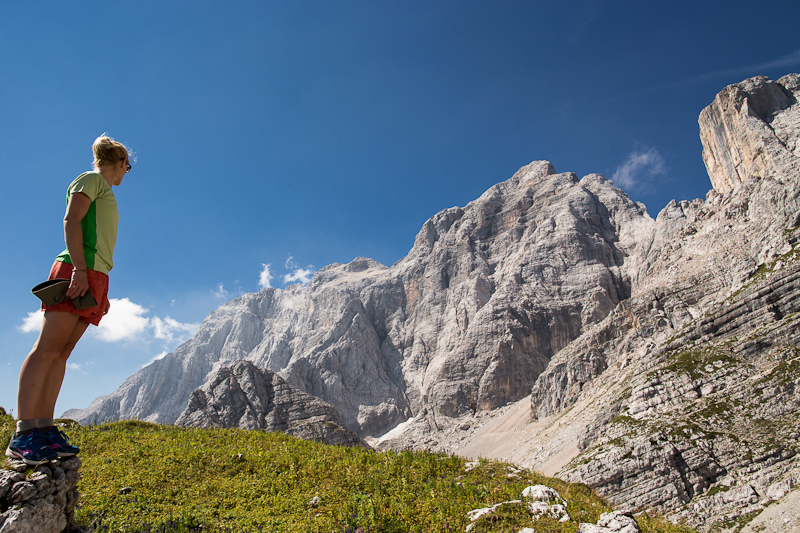 Murphy surveys the E side of Civetta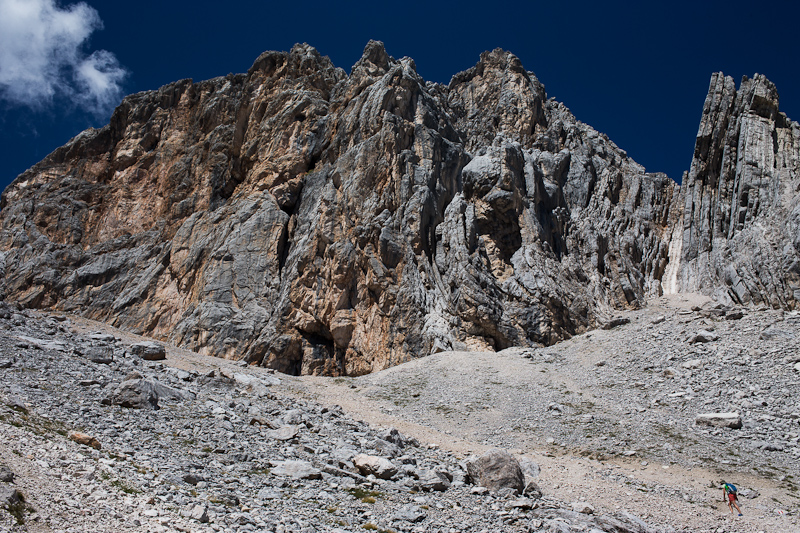 Long slog (lookit Ethel!)
We top out the pass and get a view down into the basin of the same name: Van delle Sasse. This is a throwback to a different era, geologic processes exposed for the inquisitive to marvel at. The character and composition of the rock changes; water has washed chasms away, and visible in other areas are massive uplifts and folds.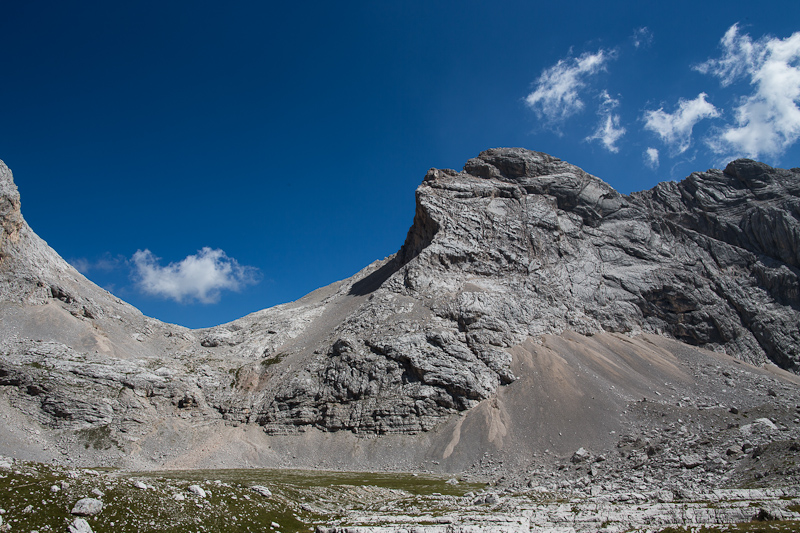 Van delle Sasse...ridiculous
If not for the fact that we're the furthest away from home at this point, I'd be tempted to call it a day and while away the light exploring this basin. It now ranks high on my list of special places.
Continuing on through the hot part of the day, we saddle up to a huge descent to the next rif right about the time we both run out of water. It's been something like 6 hours since we've seen any, so we go into ultra-conservo mode and slowly start to overheat. Thankfully, we cross a pristine stream about 10 minutes before we reach Rif Vazzoler, and I chug mountain water as though giardia is nothing more than a TV chef.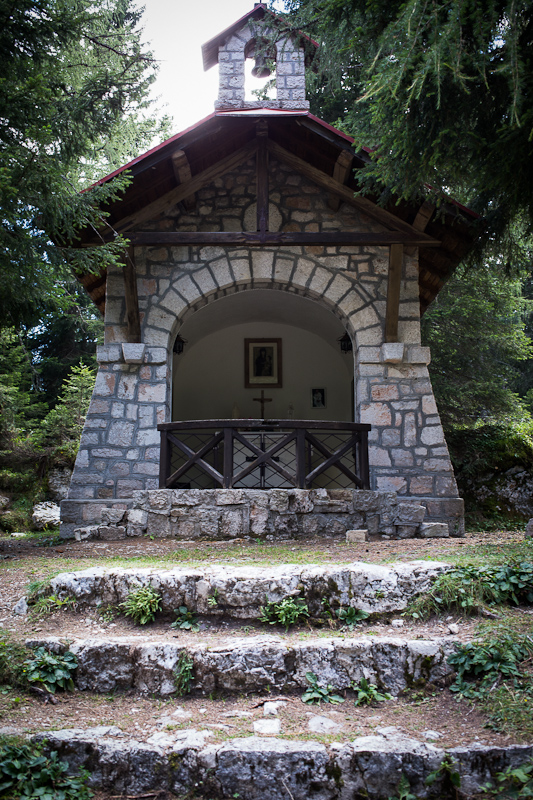 Mountain shrine at Vazzoler
Vazzoler is something of an oasis for us. We load up on pastries, beer, and chocolate (and water) and move on with renewed spring in our step; we've got some ground left to cover!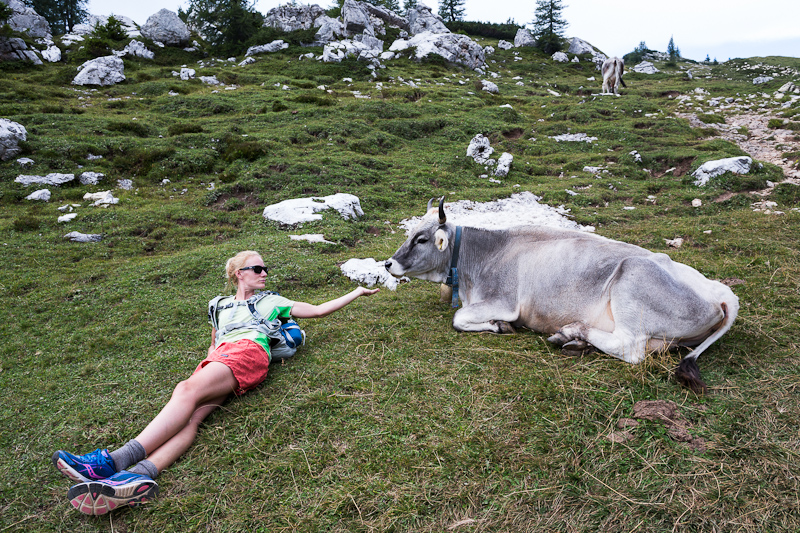 Murphy makes friends
Continuing on towards Rif Tissi, we finally come around the west side of Civetta and are greeted by an in-your-face view of the rock walls that are barely visible from Alleghe. This mountain is a monster, and the boulder battlefields we hurry through are an indication that the monster throws hissyfits every now and then.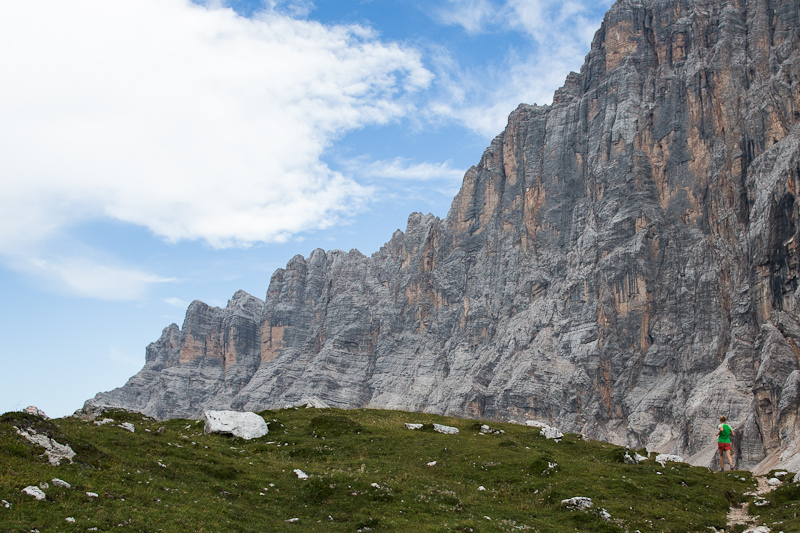 Not your average trail view
It's apparent to me that Rif Tissi is where we should return to; it's perched at the top of a sharp knob with a commanding view of both the valley far below, but also the entire west wall of Civetta. Noted and on we go; the sun ain't stoppin' for us.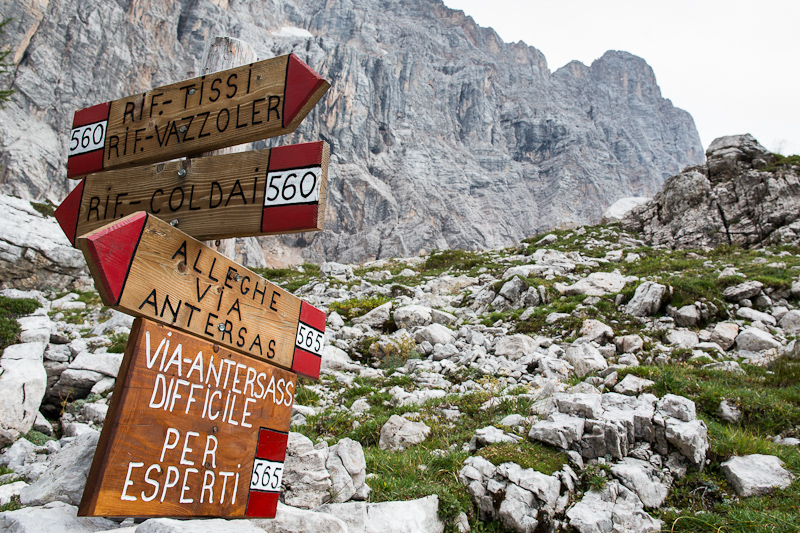 Rad trail signs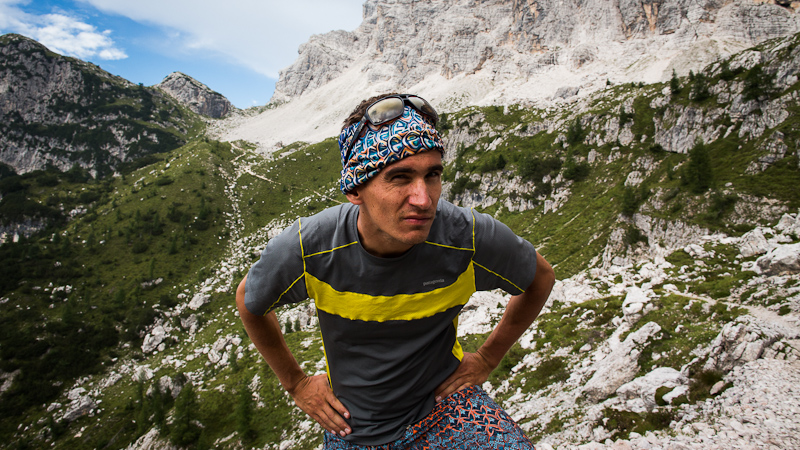 Gimme my camera back!
It's now late enough in the day that we don't stand a chance of making it back to the gondola before its unfairly early closing time; this also presents us with a choice of return routes. Instead of looping all the way back around to Rif Coldai and descending to the stopped gondola, we can exclude the ~500m section of trail between Lago di Coldai and the Rif and descend directly towards Alleghe on a trail marked "dificil." Having the goal of making the gondola erased also gives us the opportunity for a dip in Coldai.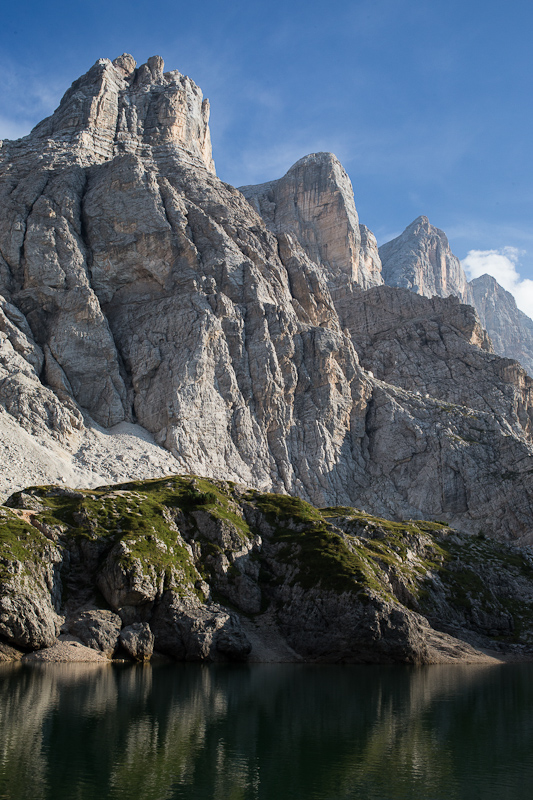 Lago di Coldai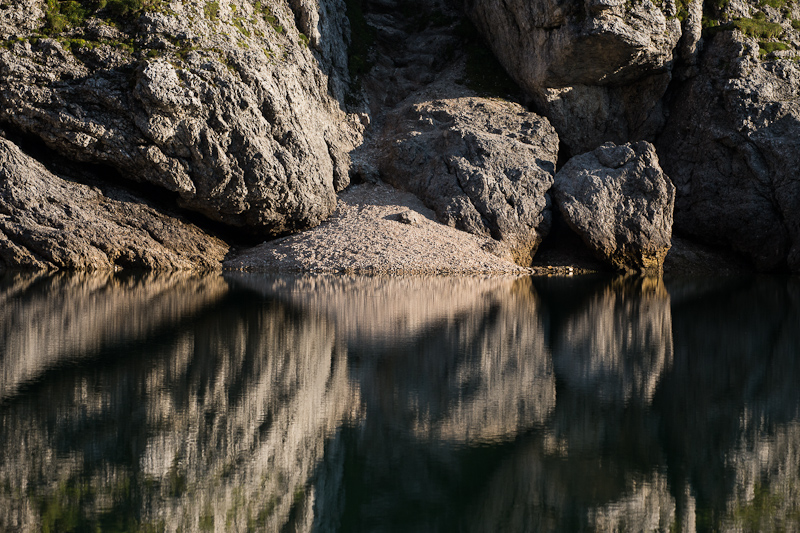 Coldai reflecto
It turns out that the Italian version of "dificil" is to be taken a little more seriously than the American version; the piles of mountain goat carcasses should have been a clue. Within about 100m of turning down this alternate trail, it becomes apparent that we're in for a wild ride. We're actually descending a dry waterfall, lowering ourselves bodily down loose cliff faces. My overwhelming sensation is "thank Faust it's not raining," and perhaps one of those words was different.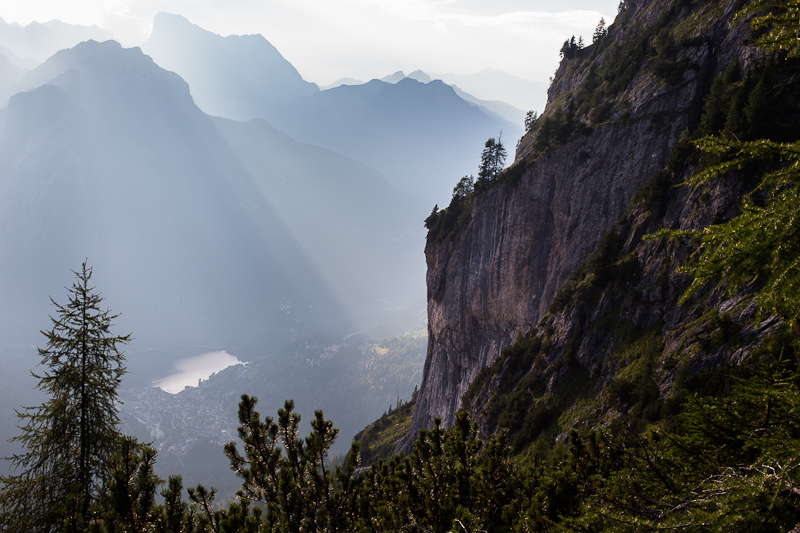 Peering down to Alleghe from the death trail
The bonus is that we get treated to a rather special view of the valley, and the light is RIDICULOUS. I balance precariously to fire off a few photos, wondering if the rescue/recovery crews will know how to properly process RAW files.
Ka-blast!
On a later day, we get to observe this atrocious trail from a nearby peak; you know you're in for a treat when it looks scary from miles away...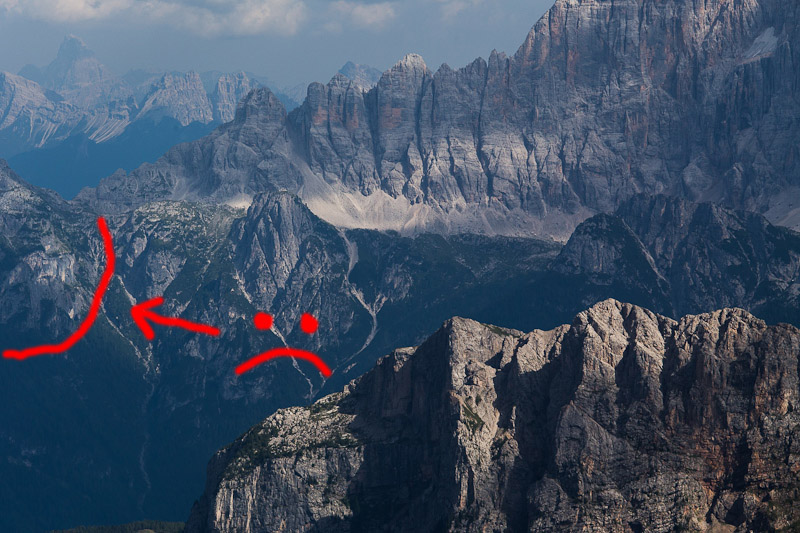 The thin red line
We just barely avoid the official definition of an epic day by finishing minutes before we'd need headlamps. The crew picks us up at a lower gondola station and delivers us graciously to the pizzeria. Turns out our little 12-mile hike was more like 20, and the 11 hours we spent on the trail ensured that we'd be licking our wounds the next day.
Reeeeediculous hike, though!
-