A couple (few?) months ago, we got invited to tag along on a different kind of trip to the Black Rock Desert. If you're one of my seven regular readers, you may recall that we rather enjoy visiting the Black Rock every now and then when there AREN'T 60,000 of our closest friends out there, and this was an excellent opportunity to do so. What made this trip different is that we'd be visiting the operations of
Black Rock Mud
, and that we'd get treated with a trip to the storied Fly Geyser. What we didn't know is that we'd be able to escape to the deep playa, always a treat, and that we'd see some other stuff we had no reason to anticipate.
I'll be boring you for the next couple weeks with the photos from this trip, so buckle up, buttercups. In this first installment, we'll visit Fly Geyser.
We'd been invited on this trip by Riley's parents, which unfortunately meant that Riley would be there too, and of course I mean that in the nicest possible way. His presence was offset by a large collection of awesome people, so all was well. On the first evening, our large group was escorted to Fly Geyser, located on private property and zealously protected by its owners. And for good reason.
The geyser graced the pages of National Geographic a few years ago (can't seem to find out when exactly), and while it was certainly known prior to that, that photo put it on the world map. It's not a purely natural feature, as it was created when an artesian well was tapped many moons ago. However, past that spark provided by man, it has naturally grown into the spectacular feature as it's seen today. The water spewing forth is extraordinarily mineral-laden, and the colors are thanks to the combination of the minerals themselves and the various algae etc. that grow on the formation.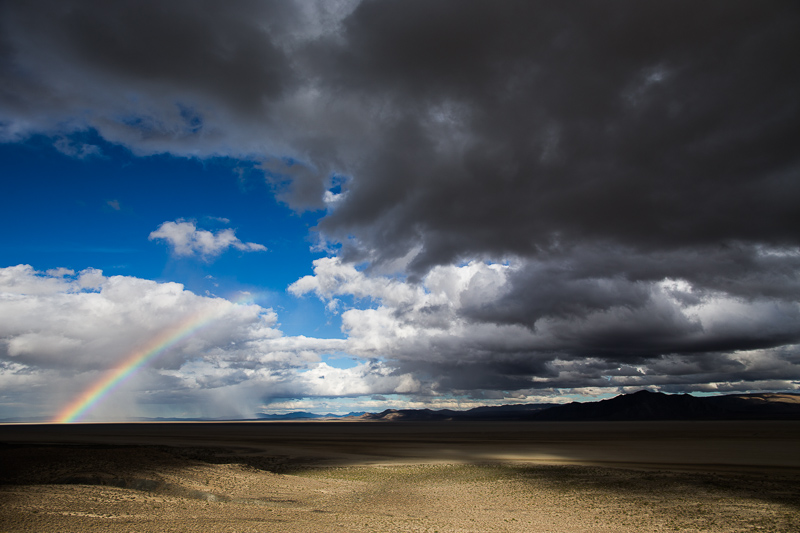 On the way out
After caravanning out there, we are escorted through the gates and into the private paradise by Black Rock Mud's Shelly and resident scientist Alberto. Save for a few geology lessons and an obligatory swim in the hot springs there, we are kids in the proverbial candy store and are rather difficult to distract from the task at hand.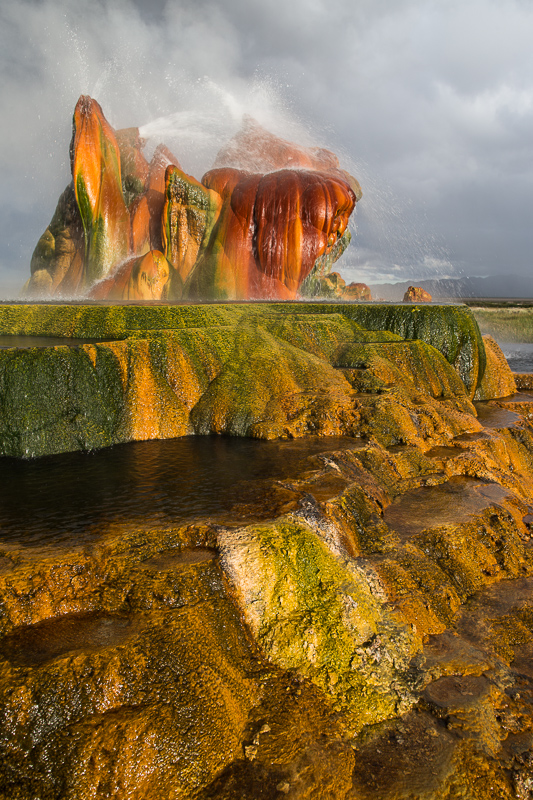 First look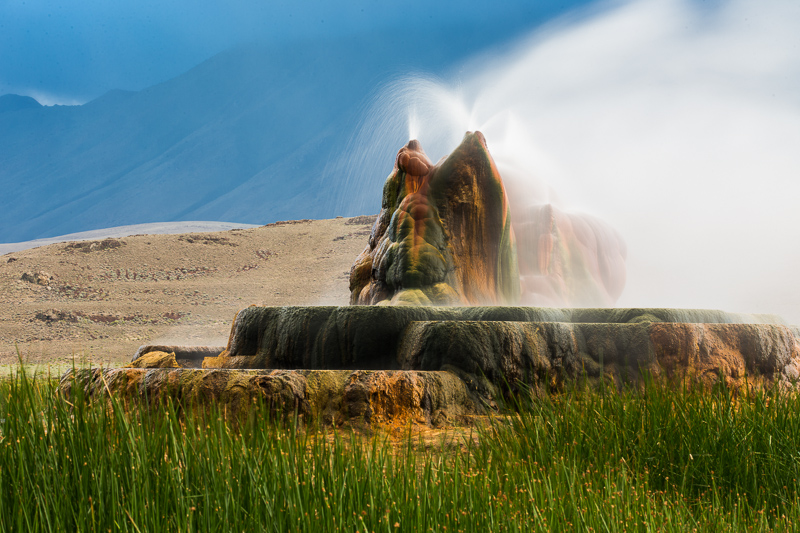 Stormy Nevada backdrop
The geyser is constantly changing and evolving. It grows, crumbles, gets vandalized, morphs, and shifts. Thus, it's never quite the same as anybody else has seen it, but it always bears a close resemblance. It even creates little mineral eggs, pearl-like in the pools beneath the spray. Each egg starts from a seed and gets tumbled around in the mineral-rich pools until it grows to about the size of a US quarter.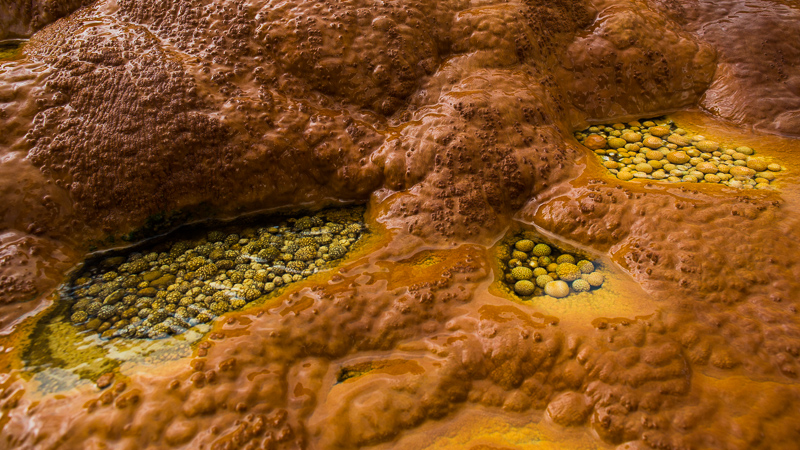 Pots o' gold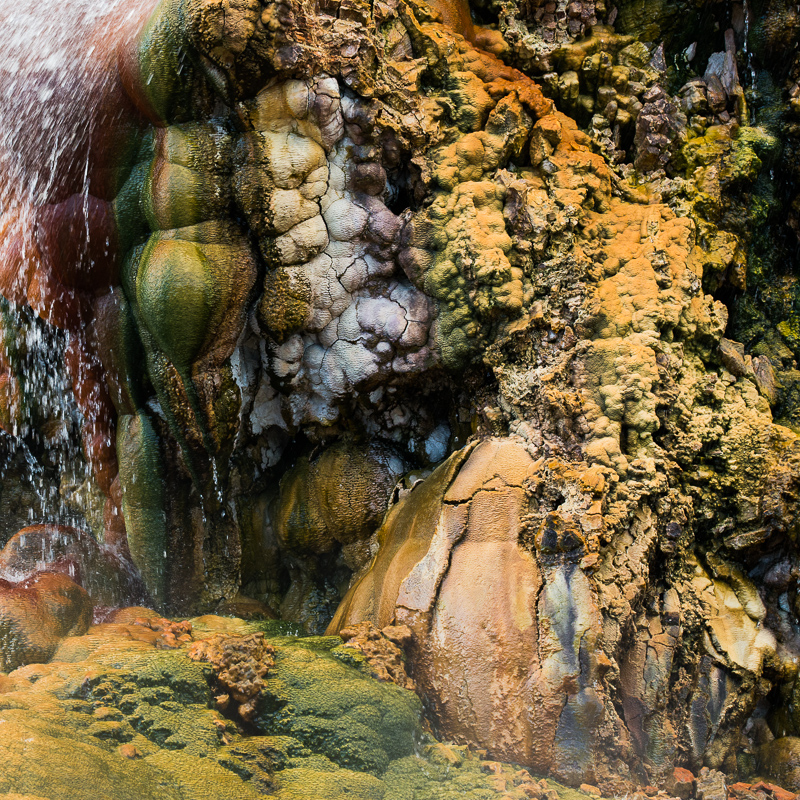 Mineral detail
We brave the smelly spray for our up-close looks, taking care not to damage any of the delicate structures. I didn't manage a proper photo of it, but I find an entombed dragonfly on a vertical wall below one of the pools and marvel at the circumstances that must have led to its demise (actually, it's barely visible in the first photo of the geyser above).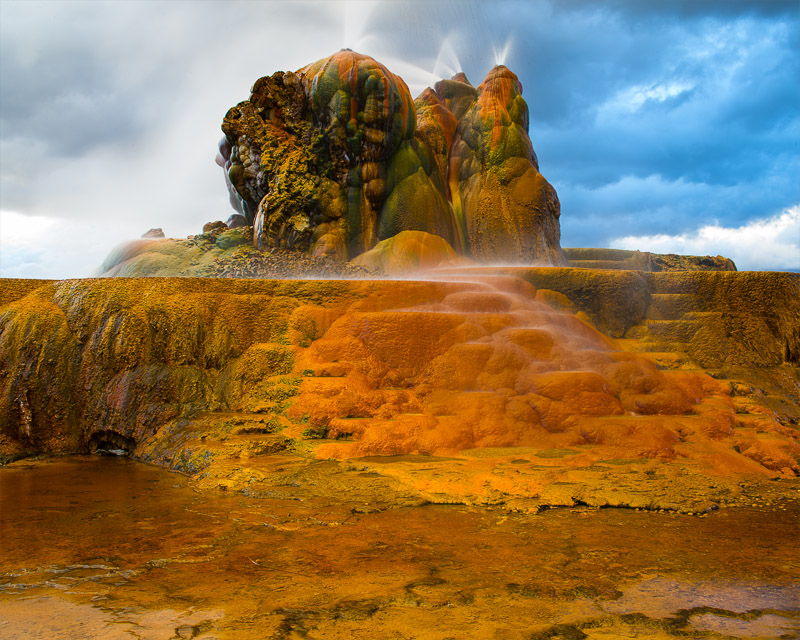 The light improves...
Every slight shift in wind swirls the steam around and blows the spray in a different direction. It's changing by the minute, and faces and structures that have been obscured by steam for an hour reveal themselves to be intricate beyond imagination. And of course, as night approaches, it became inevitable that the strobes will come out to play :)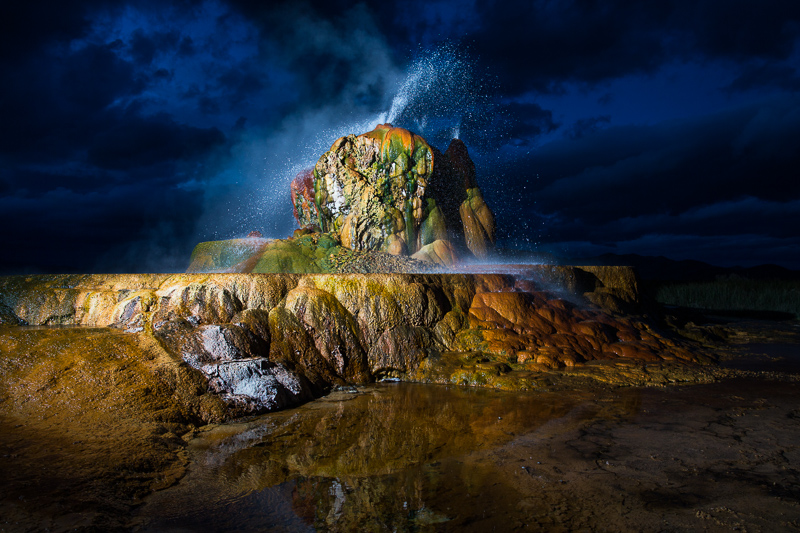 ...and dusk falls
I'm under no delusion that these are the finest photos that have ever been made of Fly Geyser, but I'm in no place to complain about having the opportunity to see this...thing...while it's healthy and whole. Many thanks to Shelly for taking us out and sharing the radness with us!
Holy cow.
-