With the first day of running done and dusted, I saw no reason to do anything but keep burying myself. After awakening to another banner day on the South Island, I decided to revisit an old friend: the Moonlight Track.
When I lived there, I frequently hiked Ben Lomond, and it took until Epic Camp for me to realize that it was possible to continue around the back of Ben Lomond and put together a massive run. Curiously, our run during Epic was hampered by poor navigation and general exhaustion, so I'd been itching for years to do it properly.
When I say "hampered," of course I mean "near disaster." I wrote about it here, but I'll spare you the indignity of reading that whole thing; here's the section of interest:
...the evil southerly front has passed through, and Saturday morning is crisp and clear. We have our customary snack and are out the door at 7am for a trail run. I lead the way through town to the Fernhill roundabout, and we turn uphill onto One Mile Track. This is a steep climb up the hill that the gondola services. We run/jog/power-hike up the thing, and we finally get out of the forest above the gondola and joint the track to Ben Lomond Saddle. This is a moderately strenuous hiking track, and running up it is not easy. I team up with Tara again and we quickly make it to the saddle.
Instead of summiting Ben Lomond, we head around the backside of Bowen Peak along the Moonlight Track, which at times is more like a goat trail. The torrential rain of the prior day has left parts of the track delightfully soggy, and my shoes are soon soaking. On the north side of Bowen Peak, we somehow miss a fork in the track and find ourselves chasing fake tracks here and there. Mike, Tara, Albert, Doug, John, Newsom, Gordo, and I are all in the same boat here. Somebody yells that they've found the real track and we press on. Unfortunately, we're wrong.

Mike and Tara and our stomping grounds. Before we get lost.
Ten minutes later, we're hopelessly lost in dense underbrush. A few minutes after that, we're thigh-deep in gorse, a British import that took over in the wilds of New Zealand. It's quite possibly the thorniest organism on the planet. Porcupines cower in fear at the mention of gorse.
After much bushwhacking, cursing, and skin-shredding, Albert leads us back to the track. We are ecstatic and run to the end of the track, down into Arthur's Point, and along the road into Queenstown. It's a 3 hour 50 minute combination run, adventure race, and survival school. My legs and arms are bleeding and tender, but I'm not as exhausted as I should be. I eat breakfast...
Needless to say, the Campers that I've kept in touch with have always held that run in special regard and with particular wonderment that we went from hero to zero so quickly. More on that in a minute!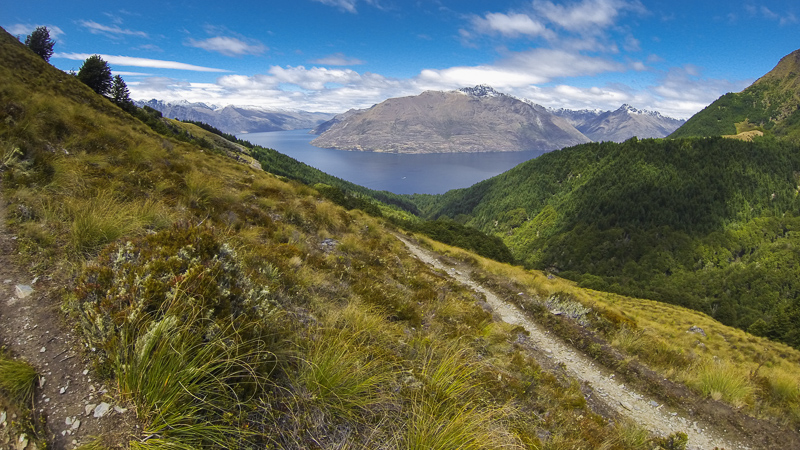 Rising above Wakatipu
Back to present day, I pretty swiftly remember that the climb up to Ben Lomond Saddle is a bitch, but the views it affords are well worth it.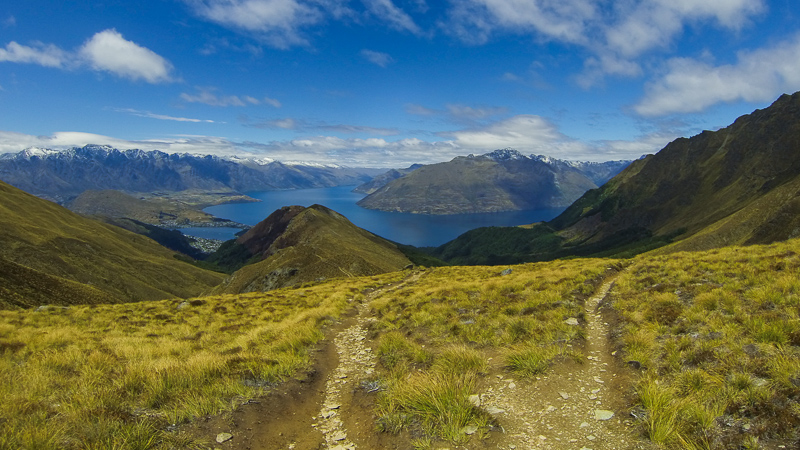 Higher yet near the saddle
Over the saddle before my legs have really become aware that I'm asking a LOT from them even after yesterday, I settle in to the gradual downhill at the start of Moonlight. There are frequent soggy patches to dodge, leap over, and tiptoe through. Further, this is rugged sheep country, and the views of the snow-covered peaks to the north are hard to beat.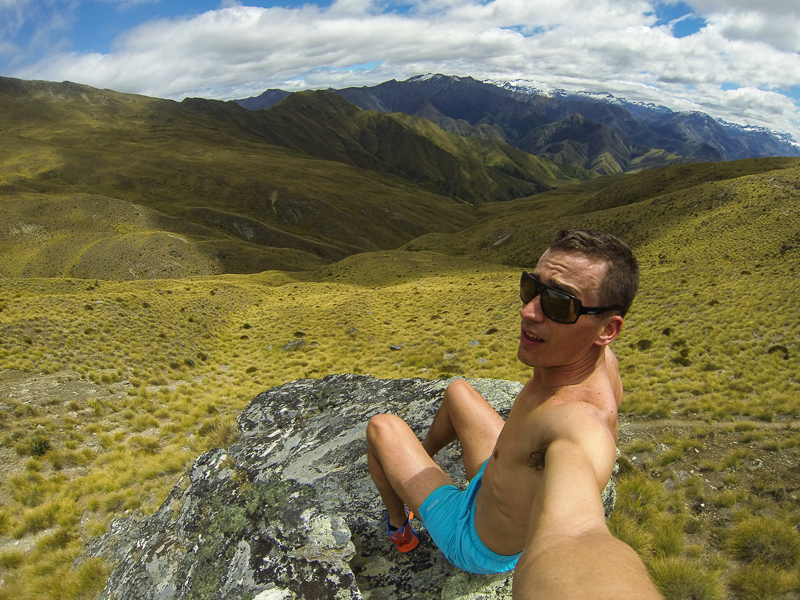 Rough day in the office
Even without the veil of exhaustion draped over me, the trail is still hard to follow in places, which makes me feel better about our misnavigation during Epic. Running as heads-up as I can, I follow it well with only a handful of excursions (one of which is, I'll admit, substantial).
Before too long, I go through a gate and pass a sign showing the correct direction. Approximately TEN FEET past this sign is where we stopped for that photo (above) during our fateful visit five years prior. So now it all adds up: we passed that sign, posed for a photo, and then, like spandex-clad goldfish, promptly forgot which way the sign told us to go. I'm astounded that we were in such a state to be that abjectly stupid, and it makes me shocked that we weren't prohibited from operating heavy machinery after that.
Not more than a couple kilometers after this revelatory episode, three things happen pretty much all at once. First, the clouds disappear and it gets hot. Really hot. Second, I run out of water (OK, my rationing reaches the point of being uncomfortable). Third, my legs, now fully awake, unionize and promptly go on strike. They feel as though they're being treated unfairly. Sigh.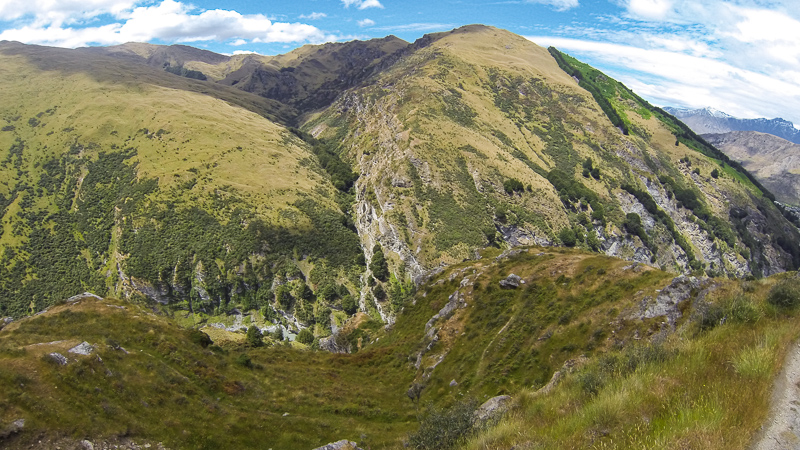 Steep ravine down to the Shotover River
I've got no choice but to pull the pace back until two of those problems are solved: there's some shade and I find a gloriously cold stream from which to refill my water. My legs are still on strike, but they're kinda whiny bitches anyway.
I'm overjoyed to make it back to the main road near Arthur's Point, which entitles me to begin the long hot descent back to Qtown. By the time it's all said and done, another 15 miles are under my belt, bringing the first two days of my impromptu camp to 37 miles. A) that's a record for me, and B) ouch.
The huge bonus is C) that evening I find out about a local 12k trail race two days later that I'd be a bad person if I didn't do. Hahahahaha I guess I'll taper for 24 hours and see if I can dig myself out of this hole.
-