With Race the Train a distant memory from the day before, my brain figures out that this is still supposed to be a big running block, and the past two days have barely seen 11 miles between them. Uh oh...time to go big again.
Monday includes some pretty wild progress on the life-planning front, which a) takes a bunch of time, and b) makes me feel invincible. Thus, it's fairly predictable how things will turn out when I finally get out the door to run at about 7:00 that evening. By "fairly predictable," you could consider a safe assumption to be "getting home well after dark with no lights, food, or water."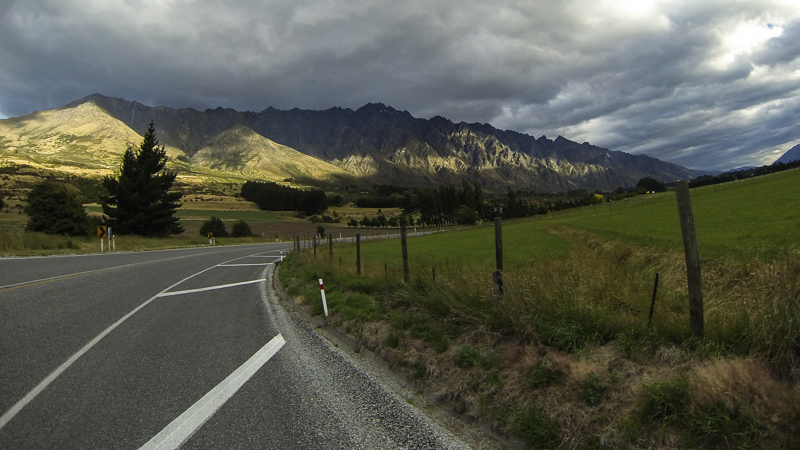 I leave Brett's house under stormy-ish skies and head for the Remarkables, water bottle in one hand and GoPro in the other. Tragically, I had spent no time up there when I lived here, so it's bound to be an enlightening run no matter what. The first three miles are flat enough and decent for warmup, and then I get to the bottom of the dirt road that climbs to the Remarkables Ski Area. This road, in a word, is destruction.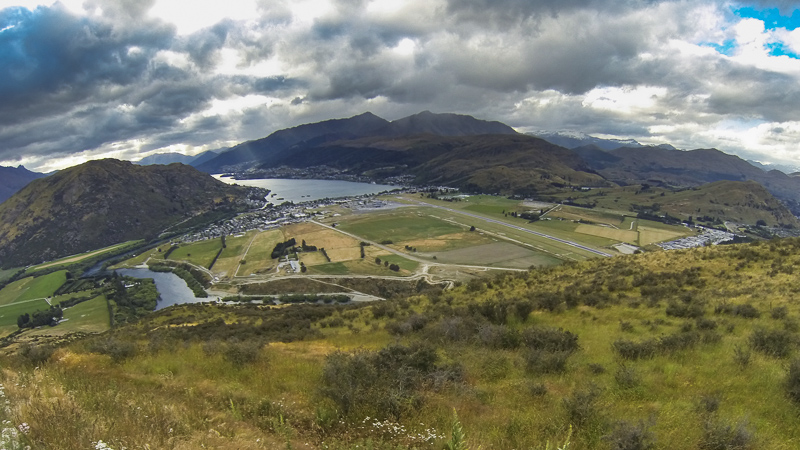 High above the airport
It climbs 4300 feet over 8 miles. Hahahahahahaha. None of it is particularly horrible, but it's simply unrelenting. Up, up, and up that bastard road goes, sometimes rocky enough to warrant placing feet carefully.
A couple kilometers before reaching the top, the sun disappears behind some mixture of clouds and ridgeline, so it gets really cold really fast. Shortly thereafter, it starts snowing. Lovely. Topping out the road is pretty anticlimactic as the view is limited to the inside of a snowcloud. Also, I know darkness isn't far off and I'm 11 miles away from home. Well, time to point 'em downhill and make something happen!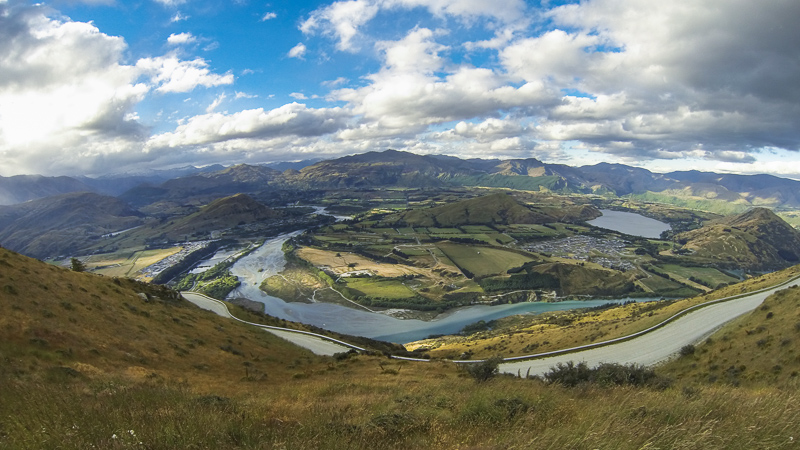 Shotover River meets Kawarau River
The 8 miles of steep rocky descent are generally horrible, but at least gravity is on my side. A couple miles down, I eat my second (and last) gel, and my water is gone a couple miles later. Hey, on the bright side, it's cold, so I don't really need to drink any more anyway. Within a couple miles of the bottom of the road, it's technically and functionally dark, so I'm officially in epic territory. Well, maybe not, since I don't have a headlamp to meet the accepted definition.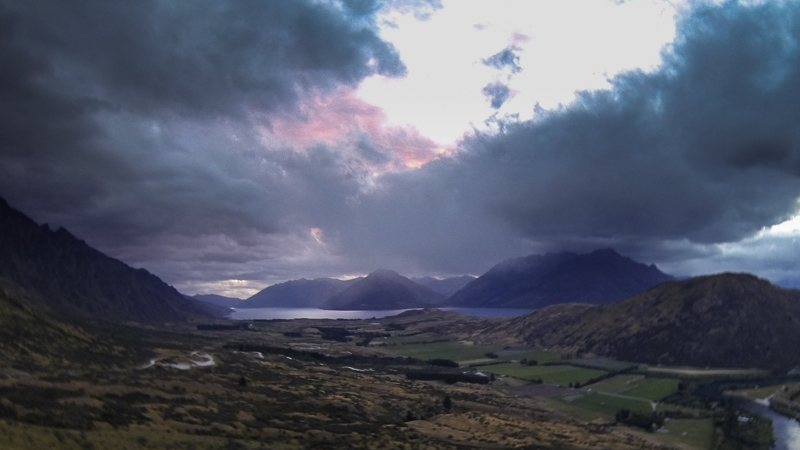 Dusk over Wakatipu and Jacks Point
My pace downhill has been good, but that takes a toll on the ol' meat sticks, so when I finally reach the road and start the 3-mile "cooldown" back to Brett's, I'm pretty well shredded. Those last few miles aren't super enjoyable, as I'm largely propelled by hunger, hate, and a desire to evolve night vision.
By the time I make it home 22 miles and something like 3-1/2 hours after I started, I'm toasted. My mind is one-track and wholly focused on Dinner, Immediately. Without showering or changing, I stumble into my car and drive into Queenstown, where I stagger into Fergburger and get stuck into something fantastic. My recollection of this meal is zilch, but that's OK. I drive back home in a stupor, shower, and collapse into bed.
One heckuva good way to cap off my last day in Queenstown. The next day brings Christchurch and more serious work on the life planning front. Cheerio!
-